FlexxPointPro Gutter Cover Systems, LLC
FlexxPoint Gutter Covers LLC is owned and operated by a Viet Nam War veteran and his family. The company is a small hands-on venture that is fast becoming the leading USA manufacturer of premium grade aluminum gutter covers. We manufacture our FlexxPointPro Gutter Cover products in-house at our Huron, Ohio manufacturing facility, and ship them direct to contractors and homeowners across the country.
"The last gutter cover you will ever need, guaranteed!"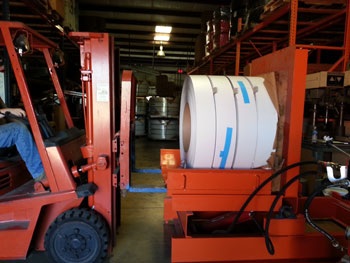 FlexxPointPro Gutter Covers are manufactured from the best quality aluminum available.
FlexxPointPro Gutter Covers can be ordered in any of four colors: Matte Aluminum, White, Brown, or Thermal Thaw Black.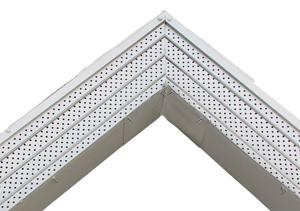 Creating corners is a snap since the drainage holes offer a handy guide for your tin snips.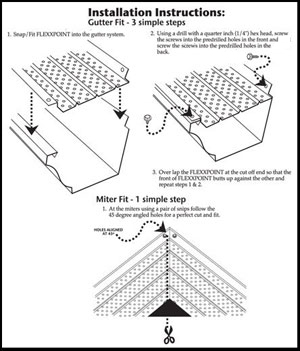 Installation of FlexxPointPro Gutter covers is easy. And all installation hardware is included! All you will need to complete the job is a cordless drill/driver with a 1/4" hexhead driver; tin snips; a ladder; gloves; and safety glasses.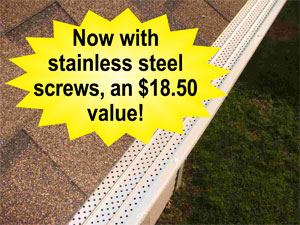 FlexxPointPro Gutter Cover Systems
FlexxPointPro mounts permanently and securely to the front lip of the gutter system and mounts directly into the fascia board with provided fasteners. Once installed it will never have to be removed again; it becomes a permanent addition to your gutter system. FlexxPointPro gutter covers will NOT void roof warranties. Other products that slide under shingles will void most roof warranties.
Our unique 3-Point design prevents water overflow and potential foundation damage by acting as dams and slowing water flow over the cover allowing full drainage into your gutters, even if covered by wet leaves and debris.
FlexxPointPro gutter covers will never clog. FlexxPointPro's 3-points allows airflow by elevating wet leaves and other debris off of the cover surface, preventing leaves and other debris from sticking on the cover. Over time, light winds and other natural elements simply blow away dried leaves and debris.
FlexxPointProGutter Covers are easy to install

even if your gutter system includes high-profile brackets. FlexxPoint Gutter Covers, LLC backs its product with a 50 year product defect and performance warranty

, We offer factory direct manufacturer pricing!
FlexxPointPro Independent Testing Results

Leaf Entry/Blockage
Twig Entry/Blockage
Pine Needle Entry/Blockage
FlexxPointPro 100%
FlexxPointPro 99-100%
97% (no water flow reduction)
Popular Competitors 90%
Popular Competitors 75%
Popular Competitors 86%
Wire Mesh 0%
Wire Mesh 0%
Wire Mesh 48%

Obstructed Water Flow:

20.1 inches of water per hour when covered with wet leaves (20 foot section). Still 1.5 times greater than the world record.

Clearing of Debris:

Most dry debris is cleared from the surface with a 5mph breeze. When wet, debris is removed with a 21mph wind speed.

Strength:

Excellent durability.
FlexxPointPro Facts
Comes in 4' lengths for easy transport and installation
Does not go under the shingles of the roof which eliminates any possible damage to either
Does not void your roof warranty
Once installed, never has to be removed again; becomes a permanent part of your gutter system
Will add years of life to your gutter system
Only water will enter —

absolutely no debris

Gutter will remain free-flowing for water
The water capacity greatly exceeds U.S. record rainfaull amounts and will take on any amount of rainfall nature can give, guaranteed
Manufactured with the best quality aluminum; will never rust or distort, guaranteed
Performs well with any roof material or roof pitch
Filtration system keeps working 100% even when covered by wet leaves and debris
FlexxPointPro is installed on top of K-Style gutters
Two versions of FlexxPointPro are available, one specifically designed for use with high profile gutter mounting brackets
The 3-Point Flex System
Allows for easy installation
Allows for expansion and contraction associated with temperature changes
Allows for air to travel through the gutter system to help keep out mold and mildew and assist any debris on top of the gutter cover system to blow off more easily
The points keep debris from laying flat on the gutter cover system
Allows for easy alignment when installing, ensuring that you keep a straight line
Helps water control by ensuring that when water hits a flex point it is diverted into the gutter system